Blackwing







Japanese

(kanji and furigana)

BF
Japanese

(furigana)

ブラックフェザー
Japanese

(kanji)

BF
Japanese translated
Black Feather
English
Blackwing


Appears in

(sets)

Appears in

(Anime)

Yu-Gi-Oh! 5D's
Lists


The
"Blackwing"
archetype
, known as
"Black Feather"
archetype in the Japanese version, is a series of
monsters
which mostly consist of
DARK
Winged Beast
-
Type
(except "
Blackwing - Aurora the Northern Lights
" which is a
LIGHT
monster) monsters making their debut in "
Crimson Crisis
". In the
Yu-Gi-Oh! 5D's
anime, they are used by
Crow Hogan
. As far as looks, the "Blackwing" monsters that are level three or lower have a more birdlike appearance, whereas the level four and higher monsters have a more humanoid appearance. Also, most of "Blackwing" monsters feature black in their design, usually on their wing feathering. Most are named after types of wind and air currents, except for the manga version, who are named after weapons instead. They are a Deck with
swarming
and speed capabilities. When
Crimson Crisis
was released, this
Archetype
was very unsupported - only 5 "Blackwing" cards were released: "
Gale the Whirlwind
", "
Sirocco the Dawn
", "
Bora the Spear
", "
Armor Master
" and "
Raptor Wing Strike
". Later on, with the release of
Raging Battle
and
Ancient Prophecy
the set grew into a highly swarming and powerful Deck. The speed it gives with its swarming, along with its additional
Synchro Summoning
capabilities landed this Deck a place on the
Shonen Jump
Circuit, along with being known as one of the many Meta decks; The deck proceeded to win the 2009 World Championships and remained popular the following year. New "Blackwing" monsters and support are released in
The Shining Darkness
and
Starstrike Blast
, giving them alternative strategies. The cards relate to various types of birds and several types of winds.
Playing Style
Edit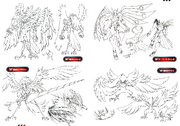 The "Blackwing"s effects are focused around
Swarming
. Because of that, they have an aggressive playing style. Also, because of their
Swarming
capabilities, they are good for using
Synchro Summon
(Note that their trump cards are
Synchro Monsters
). Their support cards rely on their swarm abilities such as "
Delta Crow - Anti Reverse
" which can be activated from the hand when you control exactly 3 "Blackwing" Monsters. Some of them take an advantage from "Blackwing"s swarming abilities and support it such as "
Black Whirlwind
". With the overwhelming amount of near forced synergy and powerful support cards, "Blackwing"s are one of the easiest archetype to play. This along with its overall power and relatively low cost nature makes "Blackwing"s one of the most powerful archetypes in the current
metagame
.
The primary draw power used in "Blackwing"s is represented by "
Allure of Darkness
", "
Pot of Duality
", and "
Cards for Black Feathers
". Because of this myriad of choices and ability to run many of them simultaneously, it is not surprising that "Blackwing"s are known for impressive consistency.
Also, because most of the "Blackwing" monsters are
DARK
,
Winged Beast
monsters, along with "
Allure of Darkness
" for drawing power, you can use "
Icarus Attack
" for card destruction. Alongside that, many "Blackwing" Decks also run "
Dark Armed Dragon
" for its ability to be
Special Summoned
by having
DARK
monsters in the Graveyard.
Another good strategy is having "
Black-Winged Dragon
(Although this is not a "
Blackwing
card, this card has a lot of strategies in this "
Deck
and it gives a lot of support to it) on the field and another "
Blackwing
monster. Return the monster to your hand to "
Special Summon
"
Blackwing - Zephyros the Elite
from your "
Graveyard
to inflict 400 points of damage to you and your opponent but with your "
Black-Winged Dragon
effect it gains a "
Black Feather Counter
instead,with it you can destroy monsters easily with high attack power by lowering their attack points by 700 per Counter.
"Blackwing"s are one of the few top tier Decks that don't require their combo pieces to go off to win. Their toolbox allows them to shift their playstyle from being aggressive to passive. The Deck has numerous mind games forcing players to make less than sub-optimal plays to play against it. By setting a card in the Spell & Trap Card Zone with a "Blackwing" monster, the mind game and the illusion of the "
Icarus Attack
" being present is given off. Players will have to slow down their playing style, forcing any aggressive Decks to be crippled and unable to commence their plays recklessly.
Blackwing
Edit
Blackwing is a powerful archetype, able to quickly swarm the field, Synchro Summon, and do devastating damage in the first turn alone. Their specialty is their quick Special Summoning, allowing you to summon multiple monsters in a single turn, then use effects such as "
Blackwing - Sirocco the Dawn
's" or "
Blackwing - Kalut the Moon Shadow
's" to build off one another and quickly wreak massive destruction. The one problem is if you're opponent stops you're combo it can come crumbling down.